Shopping Cart
Your Cart is Empty
There was an error with PayPal
Click here to try again
Thank you for your business!
You should be receiving an order confirmation from Paypal shortly.
Exit Shopping Cart
Hit Solid Irons - IronSolid

The pursuit of a well struck iron shot
| | |
| --- | --- |
| Posted by ironsolid on October 23, 2013 at 3:50 PM | |
Time.  A resource that we all wished we could have more, ecspecially when it comes to our golf game and the necessary skill development needed to play to our potential.  This past year has been chaotic and very hectic for me, and my golf performance suffered.  In season end review I started out playing really well, had a consistent practice plan and worked on the area's of my game that were costing me the most strokes.  As spring turned into summer my life completely turn upside down and all practice was set aside.  My rounds of golf, when I could find the time, were lace up the shoes and hit a few balls on the practice range and then head to the #1 tee box, hoping I could find my swing during the round.
This approach was causing some very inconsistent play.  It is very tough to "fix" a swing during the round.  Do to time restrictions and playing a lot of resort golf this year I came up with a very simple but effective practice routine that ended up paying huge divedends at the end of the season with some excellent rounds of golf in early October.
Here is the approach.  What you need is the IronSolid training device an one alignment stick from Izzo Golf.  I limit my time to 15 minutes of hitting shots at the range and 5 minutes of putting before teeing off.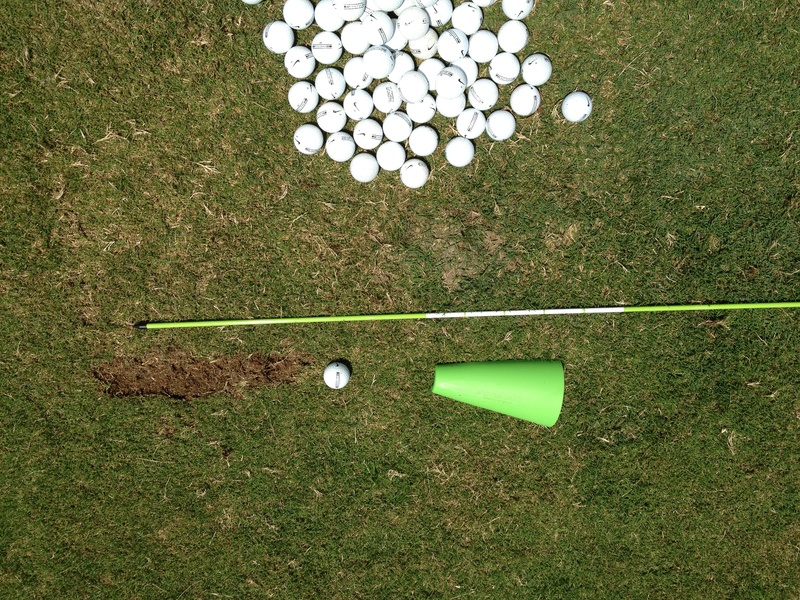 The set up is simple, point the alignment stick down range at a spcific target.  Line up the IronSolid so that the edge away from you is parallel to the alignment stick.  Place the practice ball the distance in front of the IronSolid for the desired shot.




In this photo I am hitting a gap wedge so I am making sure that I hit down on the ball.  Hit the practice ball, check your divot and then slide the IronSolid down the alignment stick and repeat.  




This simple set up provides you with immediate feedback on alignment, direction of your swing path and your divot shape and depth. I can instantly make any type of adjustments to make sure I am making crisp solid contact.  I work my way through my gap wedge, 8-iron, 6-iron and 4-iron. Using the same set up and approach.  




I will adjust the practice ball accordingly in front of the IronSolid, but there have been times when I can hit my 4-iron with the same set up as my gap wedge without hitting the IronSolid.  




I will also hit my 3-wood and driver off to the side, then step in and hit an iron shot in the set up simulating the way you play a golf hole.  I have actually simulated playing the entire front nine in this type of practice routine in 15 minutes.  Only thing missing was the putting and sand shots.




Here is the beauty of this type of practice, it helps you dial in your iron skills very quickly.  It really helps build confidence with your set up and alignment.  Once you start making solid contact and hitting iron shots crisp, you are ready to take it to the course and test your skill.




Try this simple but effective practice routine and watch your greens in regulation go up and your scores go down.




Hit it Solid, IronSolid!




BUY THE IRONSOLID HERE 

Categories: None

0

/